How to Write a Scholarship Essay
College fee is one of the major things that people usually worry about since they get accepted into universities and colleges. When it comes to paying for high learning, scholarships are considered to be the most appropriate financial aid for students. The argument is based on the fact the scholarships will give students free money that they will not have to worry about paying once they are through with their education. However, it is undeniable that many students usually become overwhelmed when it comes to filling the scholarship applications. Others struggle to understand what they need to write about and ways of filling the forms. The scholarship essays are considered to be the most important component of the application process. The essays give the student the chance to talk about their personal experiences and personalities. In addition, it can be used by students to convince the panel on why they need to be awarded the scholarship. Therefore, students need to learn ways of improving their scholarship essays and having a lasting impact on the mind of the evaluators.
How to Write a Scholarship Essay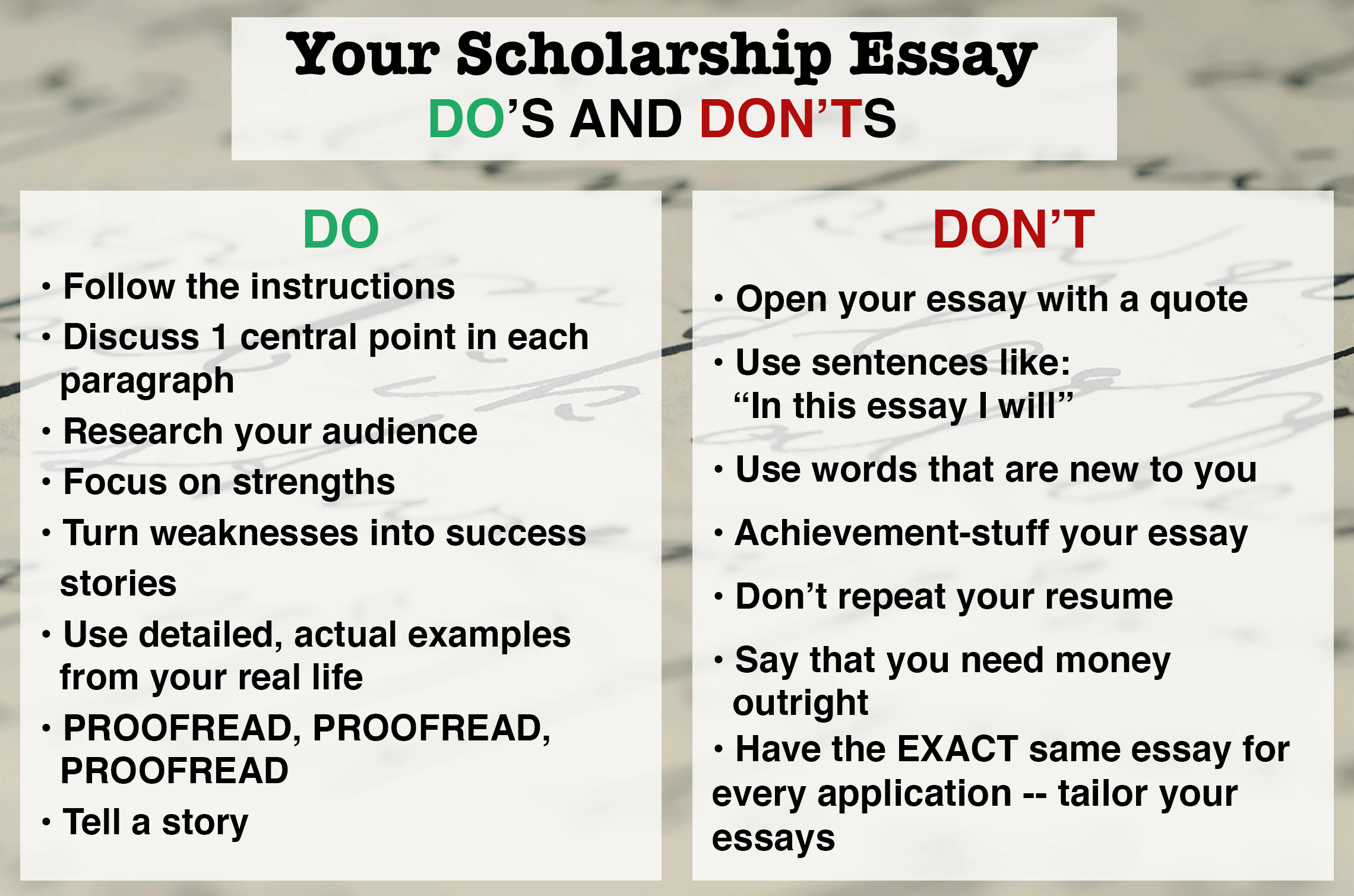 So, what exactly should a student do to be able to write a winning scholarship essay. First, it is important for students to fully understand the topic that they have been asked to write about. The topic should be examined from different perspectives before starting to write. Next, students need to plan the essay carefully and set up the points that they will write about. When making the plan, it is important to share personal stories that are relevant to the topic. In addition, the students need to make a connection between such experiences and the scholarship that they are seeking. Another critical tip is that the student should systematically organize the points. Once done with the essay, take time to go through it and make adjustments where necessary. You can get further tips on how to write scholarship essays here.
Sample Scholarship Essay
Scholarship Essay
I am a parent who recently got her second chance and would want a chance to be a Newcombe scholar and finish my education. I recently returned to school, and I want a chance to finish my studies and pursue my career and personal goals. I have encountered numerous challenges throughout my life, especially in my education, and thus I want a little support to help me attain my goals. I want this scholarship because I believe it will help me pursue my career goals, get a good life for two children, and manage to overcome my challenges in a competitive world.
I have two kids, one who is eleven years old and almost turning two. I have been battling alcoholism, but I have managed to stay sober for the past five years. Life is full of challenges, and thus I want to challenge myself to succeed in the world. The past five years have helped me understand the essence of pursuing one's goals and wanting the best for others. Therefore, my battle with alcoholism has enlightened me on the need to give my children a better life than I have. I believe that education is the key to any progress in the future, and I want to be a role model for my boys.
My two-year-old son cannot communicate verbally, and thus, I have been taking American Sign Language at Gallaudet University while also majoring in Autism at Saint Joseph's University. My aim drives to SJU have been to ensure I am a good parent to my sons and believe in the importance of diversity. My son's condition has helped me understand the importance of appreciating and respecting all people irrespective of their differences or diverse nature or ideologies.
I need this scholarship to further my education and pursue my career goals. I want the financial support to assist me in a few of my challenges. I am a recovering alcoholic, and I am currently battling Hashimoto's and painful fibromyalgia. I am currently going through many challenges, but my boys are giving me a reason to keep fighting until I make it. These challenges have stipulated the basis for my pursuit of education since I want to overcome them and eventually help others who might encounter similar challenges.
My financial circumstances have largely changed since I have to cater to my two kids and ensure they get basic needs. The extra financial responsibilities have limited my financial workforce, and thus, I cannot carry out all the activities without a little help effectively. My family is my priority, and thus I understand that I can only be able to help them if I pursue my education and attain my short-term and long-term goals. I want to graduate with honors and ensure that I manage to be an adult with a purpose.
I am an adult, and thus I understand the hardships and struggles of the world. I have a purpose of pursuing my education and graduating with honors, and thus I am willing to work hard to attain my goals. This scholarship can play a great role in my contemporary future, and I believe it can be a crucial step towards a brighter future for me and my two kids.